The mission of Striver House (SH) is to produce resocialized individuals with a history of chemical dependency who are homeless at the time of admission (special consideration for Harlem's homeless is given).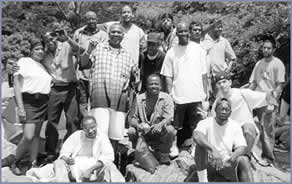 Striver House uses the self-help concept of total community involvement and the cultural centered methodology of Resocialization to produce graduates that integrate a positive value system into their mental, physical, spiritual and cultural life of the Striver. We aim to alleviate homelessness and degradation by showing and giving love through the extended family system. Striver House proudly ushers in the live-in phase of the Resocialization Process.
Striver House operates a 9-12 month cycle from a holistic, drug free, cultural enrichment model. The healthiest of foods are served, complimented with Tai Chi to provide a holistic approach to recovery. We apply natural law to the residence so as to promote order, balance and harmony, thus, creating a special, holistic environment conducive to healing, change, growth and development.
Upholding the dignity of the individual and promoting character development are essential to the Resocialization Process, for one's internal motivation and identity are the greatest assets for recovery as well as for life in general.